Wednesday, June 25, 2008
Ford Uses New Slogan for North American Consumers
Fords 1980's corporate slogan "Bold Moves" is not anymore effective these days as shown by the uninspiring designs like the current Taurus, so out with the old and in with the new. Ford is said to be preparing a new ad campaign for its struggling North American industry under the theme: "Ford. Drive One." The "Drive one" campaign will highlight Ford's accomplishments and commitment in four key areas that shape the reputation of the company and the Ford brand – Quality, Green, Safe and Smart.

This new tagline is an idea made by Jim Farley, chosen by Alan Mulally as the man to lead Ford back from the verge. The campaign began last June 2008, it now appears on television commercials in North America. Ford is expecting all dealers worldwide to use the same slogan in their advertising activities.

Before this new slogan, Ford uses "Have You Drive a Ford Lately?", an old line of Ford Company that Mulally especially likes and has repeated several times in recent months as his favorite.

For years, Ford tried to win back customers through big-budget advertising campaigns. Implementing this new marketing strategy reverses the effect the old marketing style.

With this new slogan, this week alone, Ford hopes to reach 70 million North Americans. During the campaign's creation, employees and dealers were consulted and provided input that helped illustrate the messages and built confidence in the strategy. Their collective effort has closed the gap with other Asian automakers and competitors in terms of product's quality.


posted by Car Addict @ 7:21 PM

Friday, June 6, 2008
Ford Mustang Reaches its 9-Millionth Unit
The Ford Mustang is an automobile manufactured by the Ford Motor Company. It was first introduced to the public in 1964 at the New York World Fair in 1964. The Mustang is a pillar of American cars which offers sporty styling at an inexpensive price. It has the record of having the most successful sales for an automobile. It sold more than one million units in its first eighteen months.
After four decades of style and technological revisions, the Mustang remains in production until these days. Lately it has reached the 9 million production mark since it has produced its first unit back in 1964.
Thomas Krumm, an Iowan farmer was the lucky person to have purchased the 9-millionth Ford Mustang unit. He unintentionally bought a piece of history after going to his local Ford dealer to order a Mustang GT convertible. He was inspired with Mustangs because of his daughter, Rachel, a Mustang enthusiast who bought her first Mustang at the age of 17 just by saving her school allowances. According to her
"Having been a Mustang fanatic my entire life, I couldn't be more excited that my dad is receiving the 9 millionth Mustang,"
Frits Wilke, the mustangs brand manager states that reaching the 9 million mark in 44 years had been a great success and it was due to the support of Mustang owners and enthusiasts. Quoting his words,
"So many people have contributed to Mustang's proud 44-year heritage possible – from incredible Mustangs owners and enthusiasts to our partners at AAI where Mustangs are built to Ford's Product Development and Ford Division teams."


posted by Car Addict @ 10:18 PM

Wednesday, May 21, 2008
A New Technology for the New 'Liberty'
The 2008 Liberty debuted at the 2007 New York International Auto Show. It went into production on July 24, 2007. It got across a complete redesign which resulted in a more boxy and off-road look. The 2008 Liberty is a 4-door, 5-passenger sport-utility, available in 4 trims, ranging from the Sport 4X2 to the Limited 4X4. This more masculine Jeep Liberty has some similarity in terms of architecture and exterior package with the Dodge Nitro. It is because; the new Jeep was produced at the Toledo North Assembly Plant (TNAP) in Toledo, Ohio, alongside the Dodge Nitro.
"The Sport 4X2 is equipped with a standard 3.7-liter, V6, 210-horsepower engine that achieves 16-mpg in the city and 22-mpg on the highway. A 6-speed manual transmission with overdrive is standard, and a 4-speed automatic transmission with overdrive is optional. The Limited 4X4 is equipped with a standard 3.7-liter, V6, 210-horsepower engine that achieves 15-mpg in the city and 21-mpg on the highway. A 4-speed automatic transmission with overdrive is standard."
It features an Industry-exclusive Sky Slider full-open canvas roof which brings open-air experience to this mid-size SUV. It's also well noticed that it has an improved seat comfort and an added interior space.
"The 2008 Jeep Liberty offers the MyGIG Multimedia Infotainment System™ a completely integrated audio, navigation, entertainment and hands-free communication system."
It looks like the old Cherokee's so I find nothing wrong with its styling. Although I must say that it looks more decent than any current Jeep. For the money this will be a good SUV. Everybody will surely enjoy the new entertainment features.
posted by Car Addict @ 12:45 AM

Thursday, May 15, 2008
Kia Motors, Brings Some Soul to the US in 2009
Is Kia making a comeback? A number of new models are getting interest, and there's a lot of rumor around its certain forthcoming models.
Kia Motors is planning to launch its latest Soul small automobile to the US in coming year 2009 to compete with Scion.
The Soul is power-driven and loaded with a 2.0L 4-cyl that controls the front wheels. In addition to taking the automobile to the United States, Kia, however, is also preparing on bringing up or launching the car to the Chinese society in coming December 2009.

Moreover, Kia is going to attempt to get a page out of Scion's name by letting buyers and costumers the skill to modify their latest ride. Its bold model should positively stand out as the production automobile is projected to look really close to the theory. Let's just hope that Kia Motors is also preparing on bringing a production edition of the KOUP concept that was exposed in New York.
Kia is going to release three unique versions of its forthcoming SOUL concept to the "Geneva Auto Show". The three concept models of the SOUL are probable to showcase the the world of possibilities for eye glancing trimmings, modifying and personalization of Kia automobiles (the same to Scion). Kia has reveal one teaser icon of the SOUL Burner concept car, which is made-up to be the "bad boy" name of the trio by means of its matte finish, tattoos plus big wheels.
posted by Car Addict @ 9:19 PM

Saturday, May 10, 2008
Acura Moves It Up To the Highest Level
The 2009 Acura TSX pushing its name to reach its mark as a top-notch sports sedan
In Montreal - If sales outline are any suggestion, The Acura has a victor on its name with the TL models.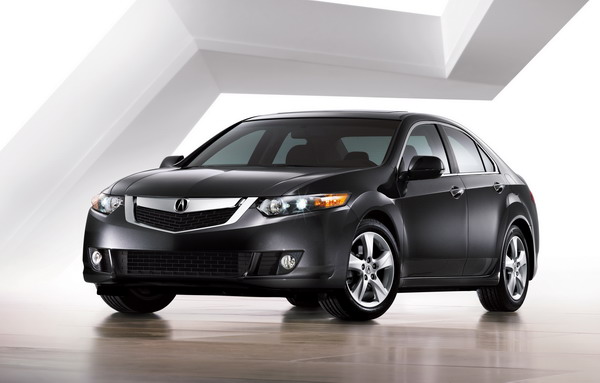 Last February 2008, the auto manufacturer put up for sale for almost 437 TL's. While that might not sound like more are released, the total calculation is an 86-per-cent increase over the same month past 2007 production. For the month of March it was moreover a better month for the TL, with total sales up 25 percent from similar period a year ago. After handling one of the vehicles, it's very simple to appreciate its recognition. While the latest 2008 TL is a good car, the improved Type- my friend tested acquires the car to a complete new level.
Very true, I can say that the Acura TSX is well-mannered and isn't troubled with torque steer, but it doesn't quite dig your motor rolling on a winding two-lane highway for the reason that it lacks very similar accurate sense as a BMW 3 Series. The engine is more fascinating when you drove at the six-speed manual, very delightful, however, This TSX reproduction is just as good in the ride plus handling responsibility as its front-wheel-drive design allows.
Although, if you are not thinking and dedicated to each corner and financial is a main issue, then, maybe, a comfy and well-outfitted TSX can be the answer to compete a new BMW 323i.
Even though Acura has not made public pricing details, the clue was this production will comes up between $30,000 to $40,000 ranges.
posted by Car Addict @ 12:43 AM

Tuesday, February 26, 2008
Land Rover and Jaguar Deal Set To Close Next Week
Next week, Ford will officially be saying ba-bye to its Land Rover and Jaguar.

That is according to reports published in Reuters.

As reported earlier this year, Indian automaker Tata Motors won the bidding called by Ford Motors to solve its fiscal crisis, although until now, Ford authorities have not confirmed the news yet.
It is expected that between March 5 and 6, the two automakers will finally announce the results of their agreement regarding the fate of these two luxury car brands in order not to spoil the publicities about the all-new Ford Fiesta at the Geneva Auto Show. Another perceived reason for the delay was the issue about Tata's engine sources once it gets the Jaguar and Land Rover's ownership. Questions arise whether the Indian company will still be sourcing the engines and other systems from Ford's British plants.
In January, it was rumored that the Land Rover and Jaguar dealership cost Tata some $2 billion but because it considers the deal as another giant step towards captivating the international auto market, it came out as the frontrunner in the crucial bidding process joined in by rival Mahindra Motors.
If we shall recall, Ford purchased Jaguar in 1989 for £1.6 billion and owned it for 17 years.

posted by Car Addict @ 2:21 AM

Monday, February 11, 2008
BMW 3 Series Tops Lease List
When you hear of BMW, what comes to mind? More often than not, you would associate it with luxurious interior, really cool exterior, and a pedal-to-the-metal performance. That has been the image that the German automaker has painted into the back of our minds.
It is thus not surprising that it is ranked as the best leasing vehicle in the United States. According to The Auto Channel, LeaseTrader.com announced its data for December last year and for three months straight, the BMW 3 Series is on top.
According to Sergio Stiberman, founder and CEO of LeaseTrader, the economic slump does not seem to faze consumers from leasing a luxury vehicle. "The BMW 3 Series continues to be the most popular car on our site because it's a marriage of both luxury and affordability," said Stiberman.
"Despite the slowing economy, people still want to enjoy a trendy car with great performance. And the BMW 3 Series delivers at a price point that is very budget-friendly," he added.
The top-ten list of leased vehicle is dominated by the BMW 3 Series but Mercedes-Benz has four vehicles in the list while BMW has three. Cadillac has two and Land Rover, one. Second on the list is the Mercedes-Benz C Class while the BMW X Series is at third. The Land Rover Sport ranked fourth followed by the Cadillac Escalade.
The Cadillac CTS is ranked sixth followed by the BMW 5 Series. Three Mercedes-Benz models bring up the rear with the Mercedes-Benz SL Class in eight place, the Mercedes-Benz E350 ninth and the Mercedes-Benz S550 rounding up the top ten. These vehicles according to The Auto Channel are the "most popular transferred lease vehicles in America during January".
posted by Car Addict @ 8:34 PM